CF and TBH Partner For Sporting Art
04.2021 BEIJING --- The British House, Beijing's premium retail destination for buyers of British luxury brands and ClubFootball, the UK's leading sports enterprise in China, are teaming up to mount the first ever permanent China exhibition of the works of world celebrated British sports artist, Paul Trevillion.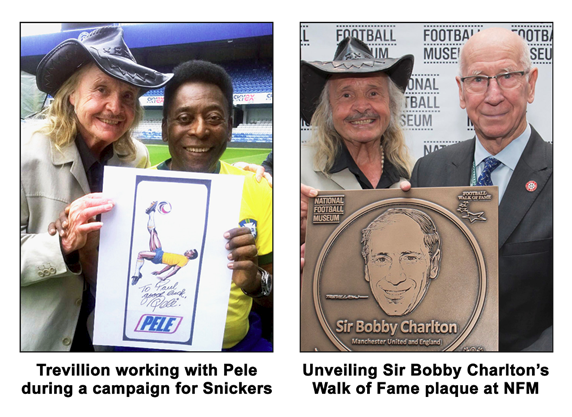 Born in London in 1934, Trevillion is known as the 'Master of Movement' and his art is exhibited at prestigious museums and galleries across the globe. The new exhibition presents limited edition signed prints of a wide selection of his most iconic action works, featuring global stars from football, basketball, golf, tennis, boxing and athletics.

From action portraits of legends such as Pele, Maradona and Jordan to current stars like Messi, Ronaldo, McIlroy, Murray and Kane, the exhibition also features mini-prints signed by the artist, with prices starting at RMB1,188 and rising to RMB2,588.

The permanent exhibition includes a dedicated section for global superstars and a special display of British sporting heroes in the 2nd floor VIP Room, while Trevillion prints adorn walls and tables throughout the London townhouse-style home. In addition, TBH and ClubFootball will be organizing sports culture salons to offer Chinese audiences a deeper insight British sports culture.

Speaking about the development, The British House Owner Yimei McCabe commented that, "The British House showcases the best British lifestyle brands and Britain's love of sport is well-recognized in China. With this collaboration, we are delivering on our promise to celebrate British sports culture as an essential element in our range of authentic products".

ClubFootball Chairman Rowan Simons noted, "Trevillion is a legend in the sporting world and his works have been bringing the stars to life in leading magazines and newspapers for over 60 years. Trevillion represents the pinnacle of British sports culture and we are delighted that discerning Chinese fans will now be able to enjoy his fantastic work and purchase them for their own homes".

PAUL TREVILLION BIO

Paul Trevillion is a globally acclaimed sports artist, author, inventor and motivator whose career spans over 60 years. Born in 1934 in London, just a 'corner kick' away from his beloved Tottenham Hotspur Football Club, Trevillion's extraordinary artistic talent was discovered and nurtured at a very young age.

Encouraged by family, school teachers, and most notably Sir Winston Churchill and HRH Prince Philip, the Duke of Edinburgh, he pursued a ground breaking career in the world of sporting art which has seen his original work published in Europe, USA, Australia, Japan and South Africa.

Trevillion's natural gift in taking the medium of pen and ink to its limitations and beyond, has been best described by author and highly respected art historian Susie Hodge MA FRSA, "Paul adds washes of vibrant colour. Nothing is laboured or overworked.....not a static photographic rendition, but a free fluid image that not only captures movements, form and mannerisms, but spirit and power....Paul Trevillion is the Pele of Sporting Art."

As a schoolboy Trevillion was driven to achieve his dream of becoming a professional artist, so he approached the editors of the highly popular comic publications 'Eagle', 'Tiger' and 'Roy of the Rovers'. His talent was recognised, and commissions to create art features and comic strips quickly followed.

In 1952, Trevillion received a letter from HRH Prince Philip, the Duke of Edinburgh praising him for his artwork – The letter appeared in the National Press and launched Trevillion's sporting career in the 'Sporting Record' with drawings of the England and Australian cricketers for the 1953 Coronation Ashes.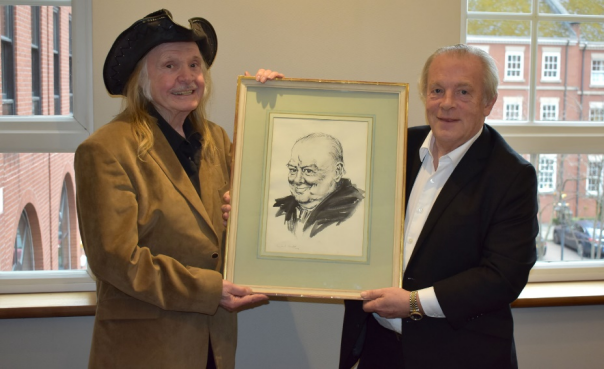 In 1955, Trevillion was honoured with a meeting with Sir Winston Churchill. Over coffee Sir Winston Churchill's inspiring advice ended when Sir Winston Churchill personally signed the portrait Trevillion had painted. This painting is the only signed original portrait of Sir Winston Churchill in existence.

Trevillion's portrait of Sir Winston Churchill is displayed at the Headquarters of the Professional Footballer's Association in London.

Trevillion's break through into the national press, came in the Sunday People in 1957 with a series devised and illustrated by Trevillion called 'Hey Ref!' which later Trevillion renamed 'YOU ARE THE REF' ... a feature which, nearly sixty years later, now appears as a weekly feature in the Sunday Observer and Guardian Online.

In the early 1960's Trevillion would defy the 'comic-look' demands of the Roy of the Rovers editors and create his hugely successful 'Comic Art Realism' style which brought Roy Race to life. Suddenly Roy changed from a comic character to a real-life superstar football hero.

From the 1960's onwards, Trevillion's dynamic art featured in almost every national newspaper in the UK. Acknowledged as 'The best black & white artist in the business', Trevillion devised and illustrated instructional based art for the Daily Mirror, Daily Express, The Sun, Daily Mail, The Telegraph, The Times, Sunday Times, Guardian and Observer.

Trevillion's art is recognised for its ability to bring a subject to life, to take a static image and create a moving figure hence the title of "THE MASTER OF MOVEMENT".

ABOUT THE BRITISH HOUSE
The first home for select British brands in China

TBH is the first platform in China to integrate the best heritage and innovation brands in the UK. Every brand that joins the TBH family has its own story, and they come from a variety of industries and fields: from the 100-year-old royal warrants, to trend-setting fashion, from elegant and warm home furnishings, to exquisite and unique art, from fashion shows and art exhibitions, to authentic English afternoon tea.

TBH provides freight, marketing and other management services for brands in China and the UK. Online and offline seamless connection, stores for e-commerce to provide display, experience, customer service and supporting marketing activities. Strive to create a new experience consumer terminal for Chinese consumers.

The Genesis of TBH

TBH was founded by Highgrove Culture Communications, which is committed to supporting the Highgrove Social Enterprise, founded by Prince Charles, adhering to its core philosophy that "good businesses can achieve their value in a wide range of social and environmental areas while achieving business success."

Thanks to the spiritual core of Highgrove House, TBH will promote and support the UK's outstanding cultural and educational heritage around the world. TBH is the only designated representative office of the University of Cambridge's Institute for Continuous Leadership (CISL) in China and has started to open the Cambridge CISL Leadership Academy in China.

TBH Brands

More than 100 UK premium select brands and Royal Brands have been invited to join TBH. We plan to open an TBH Experience store in China and around the world in the future.

TBH Flagship Store

TBH is the first British Life Experience O2O platform in China to integrate the best heritage and innovation brands in the UK. Its flagship store of about 1,000 square meters, adjacent to Beijing's Tiananmen Square, has created a "mini-British" experience centre in China. The concept of destination consumption allows consumers to shop for a selection of UK brands while understanding British life and art and culture.

The unique family-style design of the flagship store highlights the characteristics of a classic British home, treating consumers as distinguished guests who come to the "home".

There are currently more than 100 UK heritage creative brands in different industries at the store. TBH also showcases the elegance of British life through a wide variety of activities, such as afternoon tea salons, English corners and cultural and artistic exhibitions.

http://www.thebritishhouse.com.cn/

ABOUT CLUBFOOTBALL

With the approval of CFA & BFA, ClubFootball (CF) was established in 2001 as Beijing's first British-managed sports enterprise. Our mission is to develop a love of, and participation in, sports by building and operating an inclusive network for all stakeholders.

Our football coaching team features UEFA/FA-qualified international coaches with experience coaching children and educating coaches worldwide. They are assisted by a talented pool of local, English-speaking assistants to deliver high quality programmes.

Launched in 2003, the CF Junior Network offers boys and girls aged 3 to 18 progressive and educational football experiences, suited to their individual ability - from fun skills courses for beginners to leagues and elite development programmes.

CF also has a long track record of organizing special events with partners such as the British Council, BMGIO/BODA, MCFC, MasterCard, Liverpool FC, Nike and Premier League and is dedicated to promoting international football exchanges.

In 2015, CF launched a new division to promote global sports culture exchange. CF is the exclusive China agent for Trevillion, the world's most celebrated sports artist. CF sources a wide range of authentic sports memorabilia from reputable suppliers in the UK.