October Camps with Bobby Zamora!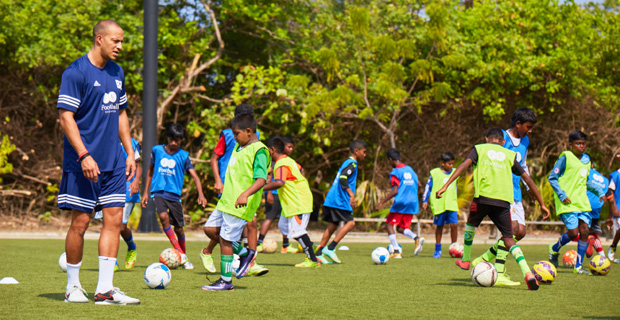 ClubFootball is delighted to announce that we're teaming up with Yanqi Island, managed by Kempinski and the Sunrise Kempinski Hotel, two of Beijing's most spectacular destinations, to bring members news and special offers on some very exciting events and holidays.
To kick things off, from 2nd to 5th October, the luxurious and spectacular hotel on Yanqi Island (in Huairou district) will be playing host to a camp led by Bobby Zamora, who represented England and spent more than a decade of his career playing in the Premier League with prestigious clubs, including Tottenham Hotspur, West Ham United and Fulham.
Kids aged 5 to 18 years are invited to apply for a place on the camps, and they'll enjoy four fun-packed, inspirational sessions personally led by Zamora, who will be supported by two professional UK coaches. Moreover, players and parents will also have the chance to meet Zamora and the coaches in a more casual setting, to engage with him and ask any questions they might have on their mind.
As one might expect, packages comprising the camp and a family stay at the hotel are on offer; however, for parents willing to make the journey to and from the venue each day, there are "Bobby Only" packages available too. At just 60 minutes from downtown Beijing, the return trip is about the same as watching a football match on TV, and with plenty more to do and see in the local vicinity, it's sure to be more worthwhile.
And if that's not enough to convince, then as a personal gesture of support, Zamora is offering some of his personal football memorabilia, including a shirt co-signed by good friend Rio Ferdinand, in a lucky draw available to all applicants who sign up before 20th September.
Interested parties can call 6961 8888-3611/7/8 to get more info or to apply to join the camp.