ClubFootball League Teams: 2020 Review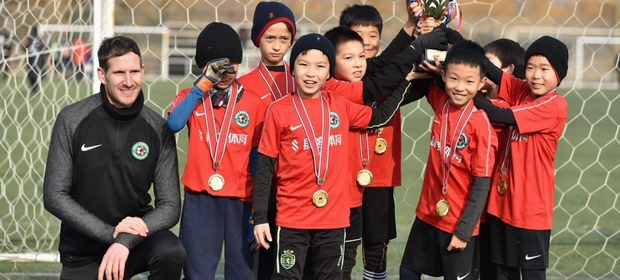 ClubFootball's Junior League Teams are Level 3 in ClubFootball's developmental pyramid and give players who already have the basic skills the opportunity to play regular competitive matches in leagues and tournaments.

Autumn 2020 Review: The Autumn 2020 Season has come to a close, and a great season was had by all ClubFootball teams involved!

This Autumn saw the return of the Beijing International Junior Football League (BIJFL), and after having missed out on the Spring season it was great to see all the teams back out playing again! Running at Elements Sports Park, this season saw 76 teams take part, with age groups for children born from 2013 to 2006. Each age group played in a format most suitable for their development, ranging from the new 2013 4v4 division to maximize touches per player, followed by a range of 5v5, 6v6 and 7v7 for the middle age groups, and finally up to 9v9 for the 2006/07 division as they move towards 11v11. A big thank you to all the clubs involved this season, who all competed in the spirit of fairplay and development of their young players. Also a big thank you to the team of referees for their officiating of games in a fair manner that educates the players on the rules throughout the season.

ClubFootball entered 17 teams across the divisions, with each age group having an age specific season-curriculum that they worked towards applying in each Sunday's match. Our position rotation policy also gave each player the chance to play in various positions, allowing them to gain a deeper understanding of the game and become a better all-round football player. Our younger age groups learnt about becoming more and more comfortable with the ball at their feet, being able to dominate 1v1 situations, turning and protecting, changing speed to attack space, 2v1 decision making and began to understand positions when attacking and defending. Our older age groups had a focus on playing with creativity, switching play, transition, defending principles and creating goal-scoring opportunities in the final third. Teams were given challenges to achieve each Sunday that matched their curriculum, to ensure players development was always in focus and not just the score-line of a game.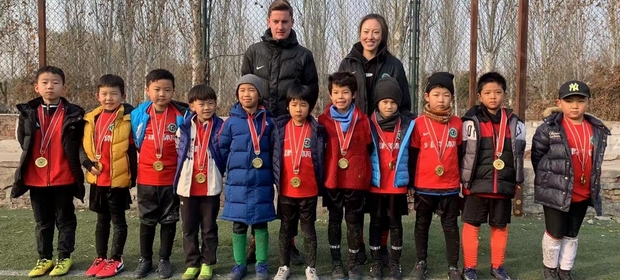 All teams showed excellent progress during the season, and we look forward to their continued development in the winter season. A special mention to ClubFootball Shunyi 2011 team on winning the 2011A division, the ClubFootball CBD 2009 Rangers on winning the 2009 Cup competition, and the ClubFootball 2006/07 CBD Borough on winning the older division. ClubFootball Haidian Diamonds also did a great job to finish second place in the 2010 Cup competition, after an exciting penalty shootout in the final!

The final day of the season also saw all clubs work together in collecting donations of schoolbags and football clothes for Roundabout's Backpack Drive, with all donations going to underprivileged students in Qinghai province. Thanks to the efforts of ClubFootball familes and the other clubs in the competition, around 200 backpacks were donated and plenty of football clothes and shoes too!

This season also saw ClubFootball enter teams into various tournaments, including the BaiDuiBei, the BFA league and the HiKickers Cup. CF entered teams from U8 to U16 across the tournaments, playing against lots of Beijing's local and international teams. A great time was had by players (and parents!), with some excellent football played, as well as friendships and teamwork strengthened throughout the matches. We look forward to competing in more local tournaments in future seasons. We unfortunately weren't able to do our usual trip to the Bangkok tournament in Thailand this season due to travel restrictions but we hope this will be possible again next year!

With our Winter season already started for CBD teams and the Shunyi Winter season starting in January, please get in touch if you would like to arrange a tryout for your child with one of our teams. Each team trains once to twice midweek at various venues, and plays Sunday matches. Our league team curriculum is designed by our Director of Coaching (Alex Arnold, former Liverpool Academy coach), and ensures each age group maximizes their development as both a player and a person as they improve their technical, tactical, physical, social and psychological skills through our training methods. All teams are coached by CF's team of full-time UEFA/FA qualified coaches from the UK, of course!