ClubFootball Men's Football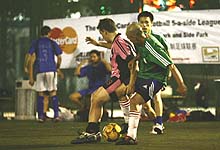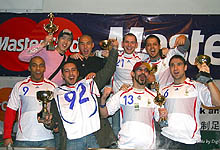 If you (or your team) are looking to play football in Beijing, then you've come to the right place!

No matter your age, nationality or skill level there is something on offer for you, from a friendly occasional kick-about to regular competitive weekend and midweek league action! Open to teams and individuals alike, from beginners to experienced amateur players, everybody is welcome to come along and enjoy what the People's Game has to offer in Beijing!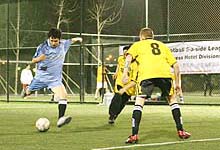 The main thrust of ClubFootball's Men's Football programme are the ClubFootball 5-a-side Leagues. This is Beijing's biggest regular amateur football tournament and it keeps expanding!

The league is open to men's corporate and amateur sides, with matches held either midweek or at weekends. Multiple divisions allow for teams of all abilities to find their level, and individual players are welcome to join the action too!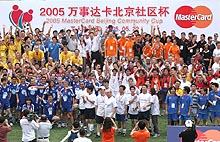 Teams (or companies) interested in playing but unable to commit to regular action can take part in one of ClubFootball's special events, such as the MasterCard Community Cups of 2005 and 2006.

For teams keen to play but in need of some match practice before taking the plunge, ClubFootball can ease you into action by arranging a friendly match against suitably-matched expat or local opposition at the venue of your choice.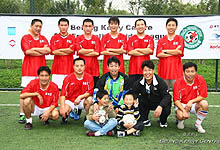 Teams (or individuals) looking to develop their skills and improve their team play can sign up for a tailored coaching programme, designed and delivered by our top class team of FA-qualified professional coaches.

Let ClubFootball also help take the strain (and expense!) of running a team with substantial discounts available for club members on renting training pitches, as well as the purchase of kit. equipment and printing/embroidery services.
For individual players looking to get involved, we can assist you to find an existing team to join, or even help you to start up your own team!

Whether you are a team or a single player, a beginner or a Beckham, to get involved now, click here to contact us today!

Copyright © by China ClubFootball - the home of amateur football in China All Right Reserved.
[ Go Back ]